Optimal is a German company specializing in OE quality mechanical parts, which they export worldwide.
Optimal products are all designed in Germany according to the specifications of car manufacturers and are subjected to strict quality controls. The range consists of over 30,000 references. Optimal has earned several awards, including those presented by TUV for the wide extent of their offer.
A deep and certified range
Optimal guarantees the quality of its spare parts range through the important development work carried out by Optimal's engineers in Germany. The resulting products not only respect the characteristics of the original ones, but in some cases represent an improvement.
Rhiag has introduced its first two Optimal lines and plans to continuously update and expand the offer. Rhiag's eCommerce website provides the necessary product sheets and technical info.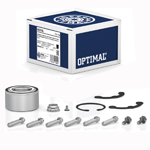 Wheel Bearing Kit
Our single bearings, manufactured to original equipment quality, are assembled in Langenbach, along with all the necessary components.
The product range includes four different models:
grooved and angular roller bearings,
tapered roller bearings,
integrated wheel bearing units (hub units with built-in electronic sensors), and the bearings used for ABS, TCS, CPWM and navigation systems.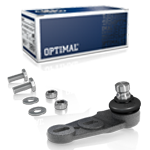 Steering
Our steering and suspension parts (approx. 3000 products) are manufactured using the most up-to-date precision machines. OPTIMAL guarantees excellent quality for you by carrying out regular inspections throughout the entire manufacturing process.
This is why our axle and steering and suspension parts are so reliable. The majority of these items are put through special tests, certified and approved by TÜV Süd.
So that we can keep up with today's demands for the newest generation of parts, we are constantly expanding and continuing this process.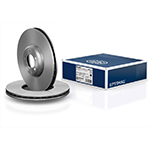 Optimal Brake Discs
Optimal brake discs have a complete range of OE quality, with over 1,300 products, with high coverage of Italian and European cars park. Below, the different versions on range:
Coated brake discs
Coated brake discs from OPTIMAL uses a high-temperature resistant coating that provides reliable corrosion protection, easy handling and faster mounting (coated brake discs do not have to be degreased before installation). They also go perfectly with aluminum rims.
High carbon brake discs
These coated high-carbon brake discs have a greater carbon content. Due to their higher overall temperature resistance, high-carbon discs are also more resistant to deformation and lead to less "brake rubbing". High-carbon brake discs from OPTIMAL offer optimum, vibration-free and safe braking. They are clearly identified by the suffix "HC" – for "high-carbon" – in the item number (e.g. BS-5450HC).
Brake discs with integrated bearings
Brake discs with bearings are suitable for car models where the replacement of the disc could risks damaging the bearing itself and where the respect of tight assembly tolerances is essential for the correct functioning of the components.