ERA has been operating for 35 years in the automotive aftermarket with a strong international vocation and distributes quality spare parts in over 80 countries worldwide.
ERA brand is a reference point for electrical and electronic products, to discover the complete range visit the ERA website.
RHIAG is the distributor in Italy of ERA Starter Batteries, whose features reflect the values of the brand:
high QUALITY of products
CARE in selection of suppliers and product range development
PRECISION in delivery and customer service.
ERA's offer responds to the growing needs in terms of power and safety that today's engines require and guarantees a product of high reliability:
Made in Europe
100% OE quality
Coverage of 98% of the car park
Batteries for Passenger Cars, Commercial Vehicles, Trucks and Buses
Constantly expanding range for Start&Stop applications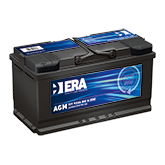 ERA AGM
AGM technology, suitable for vehicles with Start&Stop system characterized by energy recovery during braking.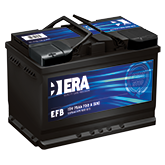 ERA EFB
EFB technology, suitable for vehicles with basic Start&Stop system.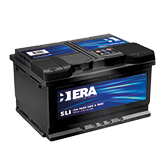 ERA SLI
The right choice for cars equipped with conventional technology, it offers reliable starting power and high fleet coverage.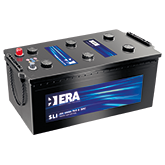 ERA TRUCK
Featuring high performance and advanced technology, it is the reliable choice in this world offering batteries for every application (commercial vehicles, trucks, construction equipment, agricultural vehicles and buses).